News
It was thirty years ago today..
September 1992 was home to some particularly popular and pertinent Alex cartoons and the 30th anniversary gives us a chance to revisit a few of them.
The early 90s was a golden era for the Alex two-framer cartoon, which depicted two separate scenes with ironic parallels. Click more to see two classic examples.
14/09/2022
The Antipodean Alex
Many of you (unless you're Australian of course) may not realise that Alex has had a parallel career Down Under over the last 35 odd years, his daily adventures appearing in the Australian Financial Review. A couple of months ago the AFR's London correspondent, Hans van Leeuwen, took Charles and Russell out for an old-fashioned boozy City lunch (has compliance not reached Aus?) to chat about all things Alex.
The resulting article appeared in the Australian Financial Review on Saturday 3rd September 2022. You can read it online here. Or for those of you without a subscription to the AFR we have taken the liberty of reproducing the piece below. Click on more.
03/09/2022
Record-breaking print
A new record was set for an Alex cartoon print on 21st May 2022 at an auction on behalf of the Charlie Waller Trust mental health charity. Guests at the dinner at Aldeburgh Yacht Club had bid enthusiastically for lots such as a stay at a villa in Antigua, a weekend in a ski chalet in St Anton and a sailing trip on board an America's Cup yacht with Sir Ben Ainslie. The strategically placed last item on the auction list was a signed copy of the now infamous Alex TWAT cartoon (see previous news item). By this stage in the evening the guests were well refreshed (optimum conditions for charitable munificence) and the bidding quickly reached four figures, ending with an eager punter securing the item for £7,000. Auctioneer Mark Durden-Smith declared the winner "the biggest TWAT in the room" and pointed out that he could have bought a copy of the print on the Alex website for just £70, so his charitable generosity amounted to a 10,000% mark up. Something of which Alex of course would be immensely proud..
30/05/2022
The most popular Alex cartoon ever?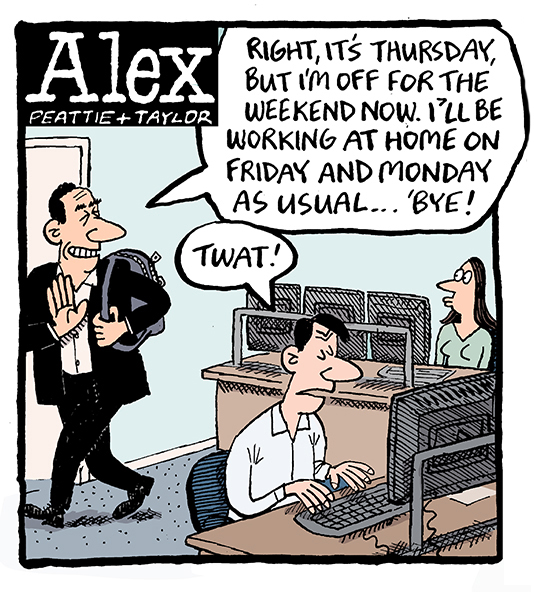 No, not the legendary Magic Flute joke (though that's been a consistent favourite down the years since it appeared in 1990). On April 7th 2022 we published a sneaky cartoon that had two very rude words (well, sort of) in it. We didn't think the Telegraph would run it, but our lovely editor held his nerve and passed it. We feared that it might be a little controversial so we slipped it in the paper just before we headed off on our Easter break and kept our heads down.
The response was astonishing. The cartoon went viral on social media. The original artwork sold in minutes and within a fortnight we had shifted sixty copies of it. We certainly didn't see that coming. In retrospect we have to admit that it's probably not the wit or even the muckiness of the cartoon that gave it its appeal, it's the fact that there seems be a groundswell of genuine hatred out there for all the TWATS who can't be bothered to turn up to work on Mondays and Fridays.
What do you mean you haven't seen it? Here it is..
28/04/2022
Alex's 35th anniversary
The Daily Telegraph ran a rather nice piece, written by Alex Diggins, to celebrate Alex's august dual anniversaries of 35 years since his first appearance in a newspaper and his 30th year at the Telegraph.
Click here to read the article. Or, if you don't have a Telegraph subscription, go to more..
20/02/2022
Alex Exhibition
In February 2022 Alex held an exhibition of original artwork at the Chris Beetles Gallery in London's St James's to celebrate the 35th anniversary of Alex's first publication and his 30th year at the Daily Telegraph.
10/02/2022
Alex @ 8,000
2nd November 2021 marked the publication of Alex cartoon strip number 8,000. If all the strips were laid end to end they'd stretch a distance of 1.75 miles. Now there's a fact for your next pub quiz.
Read cartoon number 8,000 here.
02/11/2021
The Modern Dinner Party
Happy New Year.
Charles has been making productive use of the latest lockdown and has come up with this animated version of a classic Alex cartoon strip from last year.
Click here to see the results.
01/01/2021
"Love, Loss & Chianti" at the Riverside Studios.
If you missed "Love, Loss & Chianti" at Chichester and Edinburgh it's now coming to the Riverside Studios in London from February to May 2020. Starring Robert Bathurst (who so memorably played Alex on stage in 2007/8) and Rebecca Johnson and directed by Jason Morell it features original animation by Alex's own Charles Peattie.
Click here to see Robert and Rebecca talking about the show and a few sneak previews of Charles's animation.
Tickets available here.
24/02/2020
20 Years of Alex at the October Club
On October 9th 2019 Alex paid his twentieth annual visit to the The October Club charity fund-raising dinner. A special limited edition coffee table book featuring all 20 Alex cartoons about the dinner was produced for the occasion. It raised £25,000 for the evening's charity Spinal Injuries Association. The original of the day's cartoon plus the chance to have lunch with Alex's creators were also auctioned on the night, taking the total contributed by Alex to over £30,000. The evening as a whole raised £850,000.
10/10/2019
Women in the City
On September 11th Russell Taylor gave a talk to The Ladies' Dining Club, a networking organisation for female professionals. The topic he had boldly chosen was "Women in the City" - a view of the rise of women in the corporate world, as seen through Alex's jaundiced eye and illustrated with Alex cartoons from the last thirty years. Luckily the audience was receptive to this blatant "mansplaining" on a subject which they knew far more about than the speaker and laughed with recognition at many of the situations and episodes parodied in the cartoons.
Peattie and/or Taylor are always up for a bit of public speaking, especially obviously on the the financial and corporate world. Email [email protected] for details.
12/09/2019
Alex City Quiz 2019
Alex's annual charity fund-raising shindig - The Alex City Quiz 2019 - took place on May 22nd at Conway Hall in Bloomsbury with the usual motley association of bankers, brokers and financial PRs in attendance. It raised £2,245 for St Christopher's Hospice.
Click here for a Full write up of the evening.
25/05/2019
Alex sets a new charity record
Regular readers will know that Alex went on a business trip to Hong Kong in early April (coincidentally at the same time as the rugby Sevens were being played out there).
The original artwork of the cartoon from 3rd April was auctioned at a charity dinner in Hong Kong to raise money for motor neurone disease. It went for HK$160,000 (GB£15,500 / US$20,000) setting a new record for an Alex cartoon at auction.
You can relive the excitement of this historic moment here.
Another attendee at the dinner was apparently inspired by Alex's endorsement of this worthy cause to make a personal pledge of US$50,000 to the charity - the "My Name'5 Doddie" foundation. Who says bankers can't be a force for good?
03/04/2019
Review of the Song of Lunch in The Times
The Song of Lunch at the Edinburgh Festival, starring Robert Bathurst (who played Alex in the 2007 stage show) and featuring animation by Alex's own Charles Peattie. A 5* review from the Times.
09/08/2018
Rehearsals for the Song of Lunch
Robert Bathurst and Rebecca Johnson this week in a church hall somewhere in Pimlico doing tech rehearsals for the Edinburgh run of The Song Of Lunch by Christopher Reid, featuring projected scenery, animated walk-on parts, fantasy sequences etc drawn by Charles Peattie. It's on at The Pleasance, Charles will be in attendance for some of it, so pop in and say hello.
23/07/2018